News broke this week that Gal Gadot has been cast as Cleopatra in the upcoming movie of the legendary figure's life, and it's problematic to say the least. Born in Egypt and dubbed ruler of the Nile Kingdom, Cleopatra was the last leader of the Ptolemaic Kingdom, and a descendant of its founder Ptolemy I Soter, a Macedonian Greek general. So why are people outraged and are seeing the casting of Gal Gadot as Cleopatra is problematic? that this persona would be played by Gadot?
Most notably, it is the choice to use a white actress to represent a non-white figure. Gal is an Israeli actress of Polish, Austrian, German and Czech descent, none of which have any relation to Cleopatra's Macedonian, Greek or Egyptian heritage. But Hollywood is no stranger to cultural whitewashing; in fact, this is not the first time a white woman has adopted the role. Cleopatra is often most famously recognised by Elizabeth Taylor's portrayal of the queen back in 1963. To add, the very same controversy arose when Angelina Jolie and Lady Gaga reportedly competed for the role back when rumours of the remake first started. So why is Hollywood so insistent on casting a white actress?
The truth is, to this day, we don't know exactly how Cleopatra looked like, or where her maternal ancestry can be traced to. Egyptologists have studied representations of Cleopatra on minted coins, ancient sculptures and historic artefacts. There are three sculptures commissioned by Cleopatra herself, which all portray completely different images of the same woman. Legend has it Cleopatra would adapt her image depending on her audience and what she needed to appeal to. So whilst we can't say with absolute certainty what Cleopatra looked like, we do have a broad description of her probable features. Research has shown that Cleopatra likely had dark skin, a masculine profile, with a large hooked nose, thin lips and a sharp chin. Based on a deduction of her likely height, Cleopatra would also have been considered overweight and certainly not in line with modern beauty standards. Greek historian Plutarch explicitly wrote that although a formidable and bewitching woman, Cleopatra was not a beautiful one. In which case, how historically accurate is it for a former beauty queen, voted sexiest woman alive, to play this role? About as accurate as it was when Matt Damon played a Chinese person in The Great Wall.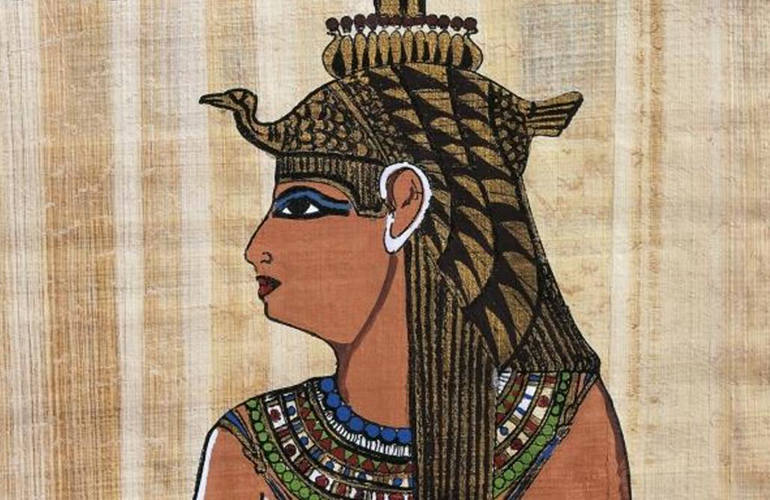 Plutarch also spoke of Cleopatra's speech, personality and intelligence being her most attractive qualities, something which has been eclipsed by the seductress image adopted by Gal's predecessors who took on the role. The fact that Cleopatra's story is being told by women this time around is refreshing. Cleopatra has in the past been portrayed solely as a seductive temptress, so it will be interesting to see her image rebranded by women. In fact, on announcing the news, Gadot tweeted her excitement "to tell her story for the first time through women's eyes". But I have to ask: are these the right women to tell her story? And that is, essentially, what the problem has been all along. It's not that we don't have stories to tell, it's that Hollywood is giving the stage to the wrong people to tell them.
Gadot reportedly commissioned the film along with Wonder Woman director Patty Jenkins. Does this give her the clout to cast herself? Certainly not. If anything, that magnifies her social responsibility to not further dilute the minority representation in Hollywood. There are so few roles written for minorities, certainly Arabs, much less ones in a positive light, so this could have been an ideal opportunity to shed light on some minority talent. Because the reality is, it's out there. We're not asking for the role to be afforded to someone simply because of the colour of their skin or their ancestry, but the truth is there are plenty of minority actors out there worthy of playing this role. The reason for gross underrepresentation of ethnic minorities in mainstream media is not for a lack of talent. Using filmmaking to introduce underrepresented cultures into mainstream media is a powerful tool, but there is a fine line between introduction and exploitation. Hollywood blockbusters rake in billions of dollars at the box office, and the individuals whose culture is being exploited to turnover those millions don't see a cent. Minority characters without the minority actors is not, and will never be, a substitute for diverse and adequate representation.
This casting choice also boasts an indifference to the social sensitivities of a former IDF combat instructor playing a role synonymous with Egypt. Gadot proudly served in, and actively supports, a colonial army notorious for the murder of civilians and illegal war crimes. In 2017, Lebanon, Qatar and Tunisia banned the screening of Gal Gadot's Wonder Woman, as a nod to the ongoing and longstanding boycott of Israel across the Middle East. Whilst seemingly superficial, a casting choice like this is in actual fact serving in Israel's continuous appropriation of Palestinian and Arab culture.
Whitewashing has been around for decades and is often defended by the industry giants as 'good business'. After all, Gal Gadot is a household name but how many Greek, Macedonian, Egyptian or Arab actresses hold the same status as an actress riding on the coattails of starring in a critically acclaimed superhero movie only a couple of years ago? The answer is not enough. In actual practice, whitewashing in any industry draws directly on the concept of non-affirmative action. But 'it's just a movie', right? Wrong. For an industry that preaches for equal opportunity across ethnicities, genders and abilities, it really ought to understand the importance of representation not just on the screen, but off too, reaffirming why the casting of Gal Gadot as Cleopatra is problematic.
by Susan Al-Safadi
@susanalsafizzle