Nawal El Saadawi, a woman known for her fearlessness and determination, died this past Monday, March 21, at the age of 89. Her influence and accomplishments have impacted the Arab world for decades. At a young age, El Saadawi was very aware of the present inequality and discrimination against women in the Middle East.
Nawal El Saadawi was born in Kafr Tahla, Egypt, North of Cairo. She was born October 27, 1931, the second of nine children. Her mother, from a wealthy Turkish family, and her father, a government official.
Nawal El Saadawi experienced many traumatizing events that have influenced her work. At six years old she had undergone female genital mutilation (FGM), a popular practice in the Middle East. this experience inspired her book The Hidden Face of Eve that discusses growing up as a woman in the Islamic faith. Released in 1977, The Hidden Face of Eve became her most influential book. Her rebellious attitude began at just 10 years old when she refused an arranged marriage.
In school, Nawal El Saadawi was a bright student. Graduating high school at the top of her class. In 1949, El Saadawi entered Cairo University for medical school but was pressured by her parents to pursue medicine because they believed that there was no future with a literature degree. After graduating she began to work as a local physician in her village but simultaneously brought attention to the malpractice of other physicians in the village that continued to perform unhealthy procedures like FGM on young girls and women. This angered many local physicians.
In 1955 she married Ahmed Helmi, one of her classmates in medical school and they had a daughter together, Mona. her previous marriages to Rashad Bey, and Sherif Hefata, father of her son Atef, ended in divorce.
In 1968 she founded Health Magazine but it was later shut down by Egyptian authorities. Nawal El Saadawi has written many books since the late 1950s including Woman at Point Zero, The Hidden Face of Eve, Woman and Sex and most recently, Off Limits; New Writings on Fear and Sin, published in 2020.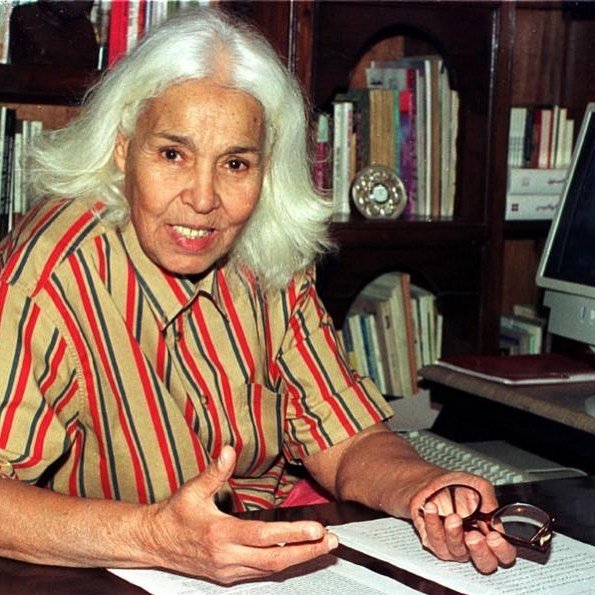 After graduating from medical school she worked as a physician at Cairo University and became the director-general of the health education department. After the release of her book Woman and Sex in 1969, she was dismissed from her position at the university due to outrage and the book was banned in Egypt for nearly 2 decades. The book also included the dangers of FGM and heavily criticized the practice.
Nawal El Saadawi was arrested in 1981 along with over 1,000 other liberals under the new legislation, accusing and charging her for conspiring with Bulgaria to overthrow the regime. This accusation was untrue. She was in prison for 3 months and wrote Memoirs from the Womans Prison (1983) on toilet paper using a smuggled eyebrow pencil.
Most of her written work was translated into almost 13 different languages which allowed her work to become popular in the West. her books cover almost every genre mostly discussing the theme of female oppression at the hands of men, religion and society.
Nawal El Saadawi founded The Arab Woman's Solidarity Association (AWSA) in 1981, combing feminism with pan-Arabism, a movement that encourages all Arabs to come together as one state or country.
Nawal El Saadawi was known as a woman of change. Attending and supporting many movements throughout her career in the fight towards equality. She supported many strikes and movements such as the miner's strike of 1984-1985 in Britain, campaigned against the Gulf War of 1990-1991, and supported the 1992 commission of inquiry for the international war crimes tribunal.
In her life, Nawal El Saadawi dealt with many legal issues due to her shameless advocacy. In 2008 an attempt was made to strip her of her nationality and ban her writing as a result of the controversy surrounding her play, God Resigns at the Summit Meeting published in 2006.
Only a year ago, in 2020, El Saadawi was given the title of one of the 100 most influential women of the past century by Time Magazine.
El Saadawi's influence has impacted the minds of women debating the idea of what it means to be a feminist in the first place. Alya Mooro, an Egyptian born journalist and writer, credits El Saadawi for her sudden change in perspective;
"It was reading Dr. Nawal El Saadawi's book while researching for my own, that was the final siren of the alarm that finally got me standing," Mooro said in a written piece for Restless Network.
Having present Arab voices like El Saadawi to look up to grants Arab women the opportunity to see themselves in her. Her influence has inspired women for decades and continues to do so.
Nawal El Saadawi was a writer, feminist, activist, physician and psychiatrist that dedicated her life to justice within the Arab community. Her legacy will continue to inspire not only those in the Arab world but worldwide. She is survived by her 2 children.
By Sian Linore – YLT Staff