This analysis was originally written as a transcript from a video essay you can watch here: 
Disclaimer: This analysis has mentions of bullying, abuse and sexual harassment and includes some spoilers.
In late 2016, I spent many nights trying to find Arabic YouTube shows to watch as an attempt to practice my declining Arabic. Eventually, I would stumble on a little but mighty series called 'Femaleshow' created by Tima Shomali a Jordanian actress, writer, producer, and director. It was a cute little comedy about the dating and eventually marriage life of a young Jordanian couple.
I've been following Tima Shomali's career ever since and it has proven to be a worthy investment. Tima's latest project and Jordan's second Netflix show, a high school thriller called 'Al Rawabi School for Girls' comes as a breath of fresh air for Arab and Muslim representation.
A major report by the Annenberg Inclusion Initiative found that between 2007 to 2019 "Virtually all films erased Indigenous and MENA women and girls across the 5 years evaluated.". In 2021, the Initiative also found in a new study called 'Missing & Maligned: The Reality of Muslims in Popular Global Movies' that between 2017 and 2019 "less than 2% of more than 8,500 speaking characters across the films examined were Muslim. When the movies were examined by country of origin, 5.6% of characters in 32 Australian films were Muslim, as were 1.1% of characters in 100 U.S. movies, and 1.1% of characters in 63 U.K. films." Of this pool "The majority of Muslim characters were boys and men while 23.6% of all Muslim characters were girls and women.".
Al Rawabi follows protagonist, Mariam, with on and off help from her fellow outcast friends Dina and Noaf, on her journey trying to exact revenge against her bullies, Layan, Rania and Ruqaya.
The show explores the effects of bullying, cyber bullying, slut shaming, sexual harassment, mental health taboos and the behind the scenes lives of teenage girls. All very typical themes we've seen in high school dramas. However, what makes this show stand out is the focus it manages to maintain throughout the series. Unlike many other teen dramas that aim to raise awareness on issues that teenagers face, Al Rawabi avoids the trap of trying to pack in too much drama. While there is a lot covered, never at any point does it feel out of place or like there are too many issues happening to this small cohort.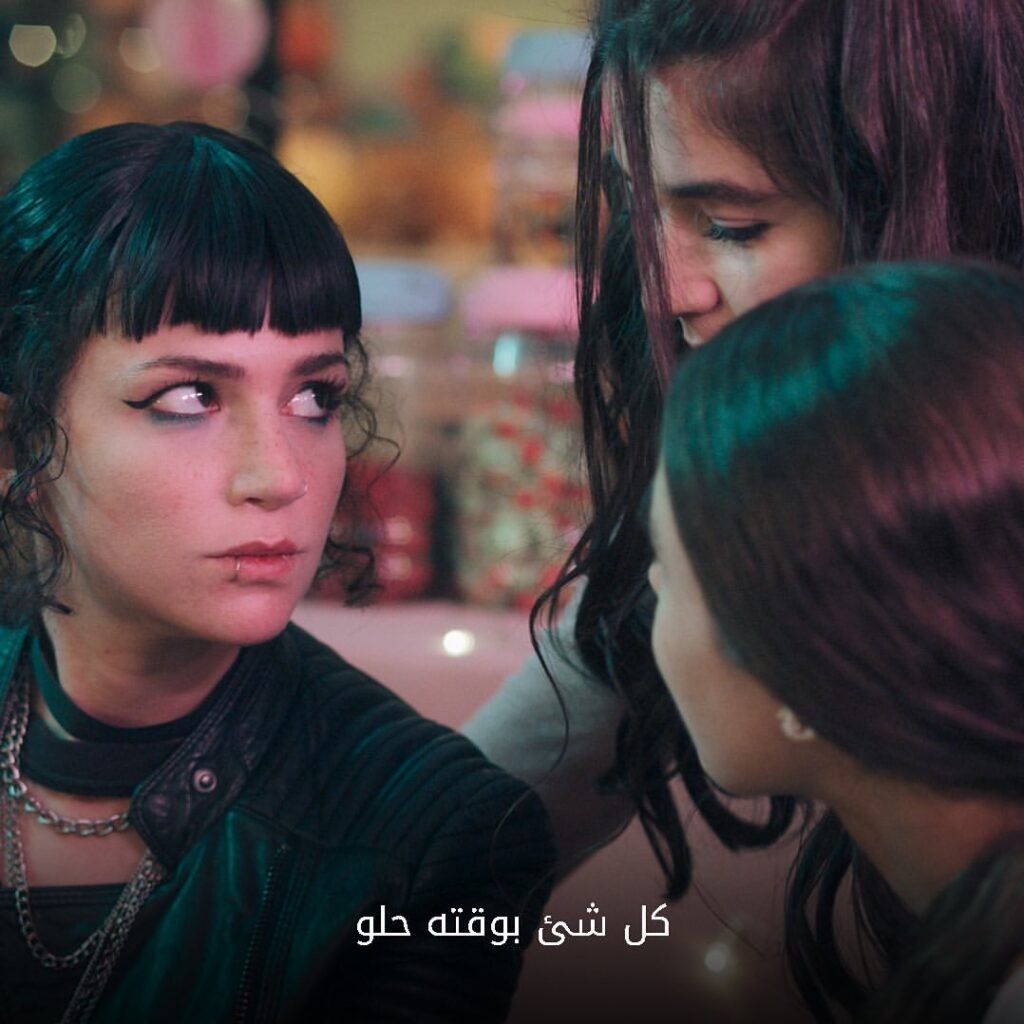 Of course, the other thing that makes this show unique is the setting. Al Rawabi, set in Jordan, brings to the world a rare look into the wealthier class of the Arabic speaking world. From Layan's father being a benefactor of the school, to Dina's in-house maid and huge house to the school open day including a line-up of entertainers, Al Rawabi depicts a portion of the Arabic speaking world an international audience may have never seen. What's more, the show is, through and through, the Arabic speaking world as seen through a female lens.
As we watch Layan, Rania and Ruqaya mistreat their fellow classmates, we grow resentful towards the trio. We see Layan, head of the group and resident popular rich girl, manipulate, gaslight, blackmail and physically abuse anyone that gets in her way, students, and staff alike. But as Mariam starts to enact her revenge and we see the trio of bullies fall from grace one after the other, we begin to see different sides to Rania, Ruqaya and especially Layan.
Ruqaya, the more awkward bully and odd fit beside the confident non-veiled and boy focused Layan and Rania is the first to fall. From the outside, Ruqaya is the fighter of the group, there to do Layan's dirty work. However, behind the scenes we see her struggle to fit in with Rania and Layan and realise that this tough exterior is a façade and desperate plea for acceptance from the popular girls of Al Rawabi. Of course, Mariam, Dina and Noaf are well aware of Ruqaya's pain points which they target in their revenge plot that ultimately is the demise of Ruqaya. We get to see Ruqaya's fallout with her family as a result and learn where her self-esteem issues stem from.
Layan and Ruqaya on the other hand were a bigger challenge for Mariam and friends.
During a school trip to a resort, Mariam plots to get the pair caught sneaking out after curfew to see their boyfriends. In the end, Rania is the only one who gets caught and we see her return to school with a black eye, a glimpse at the quality of her home life.
During the trip, Noaf, who found herself sharing a room with Layan and Rania, warms to Layan. Noaf is subjected to a disturbing situation of paedophilic sexual harassment and is saved by Layan, the only person in sight. Layan comforts Noaf and attempts to shame and file a complaint against her perpetrator. Revealing to Noaf a side to Layan that we had not seen.
We realize Layan's bad bitch persona that does not take any shit from anyone, is starkly juxtaposed to the smallness we see from her at home under the scrutiny of her brothers and father. Similarly, Rania's unwavering loyalty to Layan along with her sarcastic, put together character is a clear attempt at hope and community considering her alcoholic and abusive father. At one point, she directly tells Layan 'You are the only good thing in my life right now.'.
Likewise, Mariam's revenge plot is her attempt at justice and reclaiming control. Repeating the cycle of bullying.
It becomes clear throughout the show that while we are introduced to a woman's world, patriarchy is the foreboding character in Al Rawabi.
We see this whenever the girls' families utter the dreaded phrase, 'what are people going to think of us now?'. Ruqaya's mother says this to her with the added, 'how will you and your sisters get married now?'. Saving face of the family reputation is directly linked to the girls' marriageability. But nearly every time we hear these expressions of fear about reputation it is out of women's mouths. And while it seems like the antagonists of the story are the bullies, their behaviour is a direct response to the restriction they face; they are all victims and ultimately struggle in a man's world.
Tima and her team have done a really good job at creating a show that both captures a universally known struggle of bullying in high school and social commentary of the struggles of women in Jordan and the broader Arabic speaking world. What is more, she has managed to do this without punching down at the lower classes of society. But instead, shown us that these issues exist for the wealthy too.
Al Rawabi's release on Netflix means it will be viewed in 32 languages and 190 countries. The world will get to see a variety of female SWANA characters, from diverse family dynamics, conservative and progressive. All in the one show.
I sincerely hope that this show can bring forth a more complex view of the Arabic-speaking world particularly for women of the region. Al Rawabi School for Girls is now available on Netflix with subtitles and dubbed in multiple languages.
By Hajer