Feryal Abdelaziz, 22, made history and became the first Egyptian woman to win Olympic gold medal in women's karate Kumite +61kg event.
This is Egypt's first Olympic gold medal since 2004. Karam Gaber was the last athlete to win a gold medal in Greco-Roman wrestling for Egypt in the 2004 Athen games. Abdelaziz celebrated in the Olympic stadium when the Egyptian national anthem was played for the first time in 17 years. Being the first-ever woman to win gold is a truly astonishing remark and a proud moment for Abdelaziz, her family, and Egypt. This marks Egypt's eighth-ever gold medal at the Olympic game since 1912.
Abdelaziz defeated Azerbaijan's Irina Zarestska with a score of 2-0 in Tokyo's Nippon Budokan area.
Feryal Abdelaziz astonishing win
Abdelaziz fought confidently from the start, but failed to land any blows and there was no score heading into the last minute of the three-minute bouts. However, her confidence and prayers made her take a lead, less than 30 seconds were left, and followed up with another almost immediately.
A proud moment for Egypt and Arab women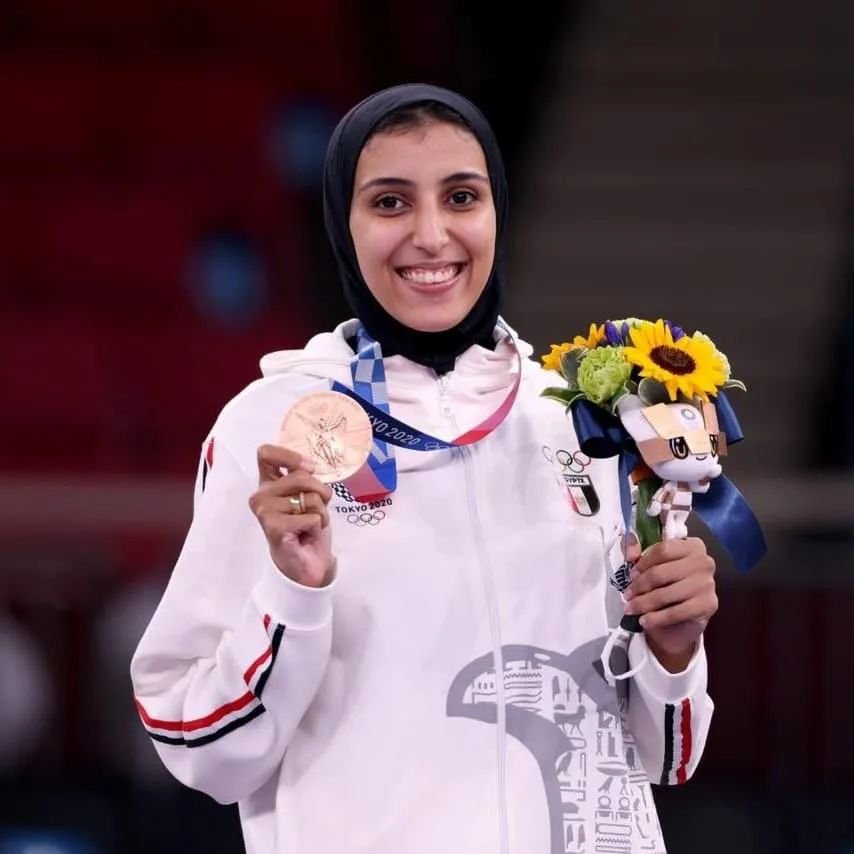 This win came a day after Egypt's Giana Farouk, 26, made history by winning the delegation's first-ever medal in karate by claiming the bronze medal in the women's Kumite +61kg event.
Giana Farouk is the first Egyptian, Arab, Muslim and African woman to win a medal in the Olympics in Karate Kumite. Her mom would take her to the club to learn Karate as a child after school, this is the first time the general public in Egypt was introduced to her.
Farouk also carried the Egyptian flag in the closing ceremony of the Olympics in Tokyo.
This is truly a proud moment for Egypt, every win and joy of theirs is so meaningful for everyone. Egypt won six medals in the Tokyo games.
Egypt to name road after its Olympic medalist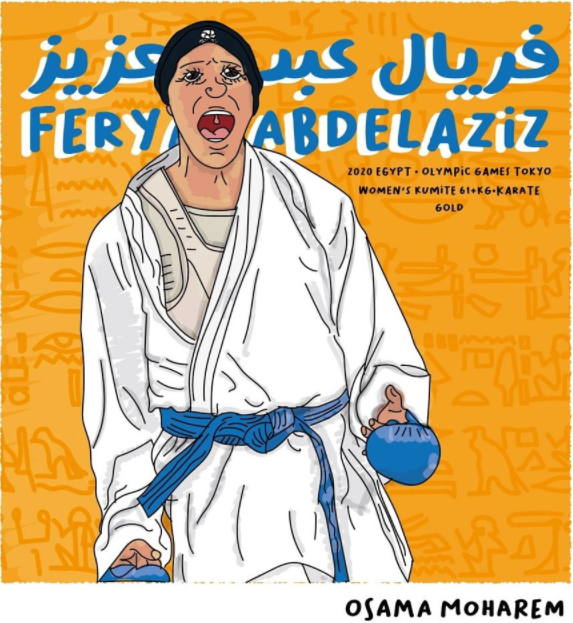 This outstanding accomplishment has made Egypt's president personally congratulate Feryal Abdelaziz and name a street in Cairo after her.
"It's an indescribable feeling to be honored by the president of the country," Abdelaziz said. "It's a first time to have a street named after a female athlete, a medal is the least I can do for my country," she said.
Abdelaziz began her love and passion for karate in Cario at the age of seven, the exact same place where now a street is being named after her.
She is currently studying to become a pharmacist and continues to also work extremely hard in pursuing her dream as an athlete. Feryal Abdelaziz is a role model and an inspiration for everyone, especially young girls.
The recognition is heartwarming and a proud moment such as this is an encouragement and a reminder for Muslim and Middle Eastern women to pursue their dreams and to become athletes.