Sarah, My Comrade
In the orbit of words I lose my energy.
I re-energize with the goal that I can deliver that load of complex interwoven sentiments, a sense of injustice, faith, and hope.
This turned into a consistent reality I continue remembering each time I recollect how things were and are presently, and each time I saw something that reminds me of you and how you left us.
It's been a year since you left…I tried to write a lot, every time I feel a lump of pain between my ribs and my heart, I erase what I wrote, then write again a sentence or two.
I didn't want to be under pressure to write something in your memory. I didn't feel the time was right. I could not get past your death and its impact, nor the death of all those friends who left us treacherously.
We shared a ton of torment, misfortune, foul play, vulnerability, selling out, battle, the quest for truth, remaining with reality, whatever the result might be, and much more…I wanted you to live. I wanted us to fight shoulder to shoulder until we grow old, struggling together and moving stagnant water. Rejecting the crumbs of rights and exploitation we used to witness happening before our very eyes. Creating a better world in which injustice and hatred do not prevail. A world that has no place for alliances of evil and profiteers. A world where we are allowed to tell our stories and own the narrative.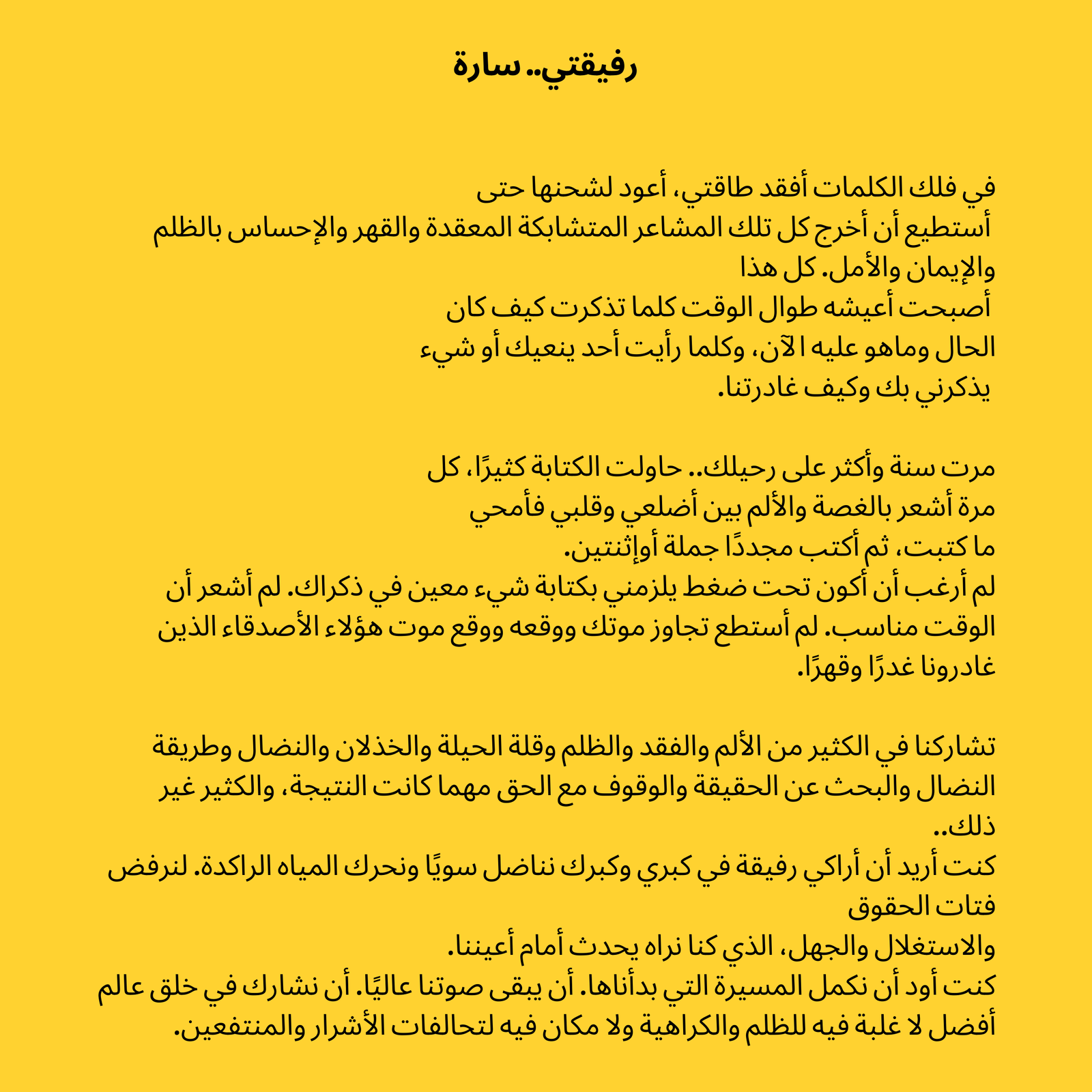 Before Departure
I remember when we used to talk after you got out of prison. We talked about fear, and the endless horrific violence and incomprehensible hatred of society.
We talked about exile and alienation, as well as feeling alienated at home. About possible solutions, and the importance of your survival.
You asked me if I had gotten over the hate campaigns that were launched after my confrontation with the Arab societies and the state… I told you then that my skin has become thicker, and this is something that we are forced to learn with time. Maybe I was scared to tell you that I hit rock bottom. That they succeeded to conquer my soul for a bit… I promised you that everything would be better after that and that you would come home victorious and stronger than before. It kills me to say this. Injustice betrayed my promise, but it did not and will not be victorious.
I encouraged you to travel. Perhaps, I was afraid to tell you about the loneliness of exile, the cruelty of prejudice, racism, and the agonizing feeling of loneliness amid a group of people who do not know our story and do not want to see or hear it.
Even if they heard it, they see it as much deserved. We are part of those people who are and will always belong to the group of the wretched.
About people who share with us the homeland from which we were exiled or forced to leave, and despite everything, they were determined to exclude us and we were rejected.
I didn't want to tell you about the helplessness, lack of opportunities, and unrealistic expectations of western societies that drive us off our heads and suck us dry.
About their lack of understanding of what we have been through, and how our value as humans is limited to our tax contribution, and how these countries can benefit from us.
They overlook their responsibility as society and institutions, yet they insist on our responsibility, almost blaming us for what we fled with our lives for.
I didn't want to overburden you. You already had a lot on your plate, more than you could handle.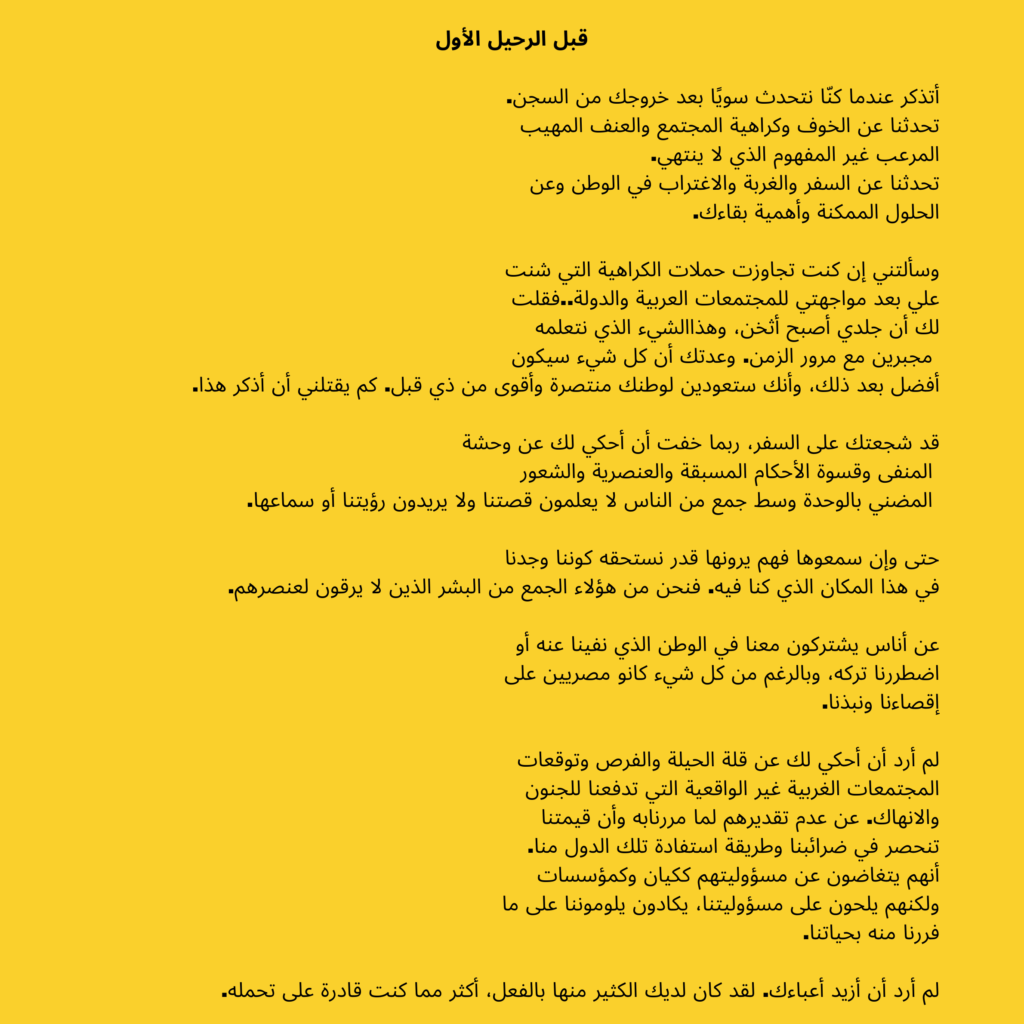 Platforms and faces
I will not talk about the violence and injustice of the authoritarian and patriarchal state, nor about what you went through before, as there is blood covering their hands; we all know that.
But I will talk about this betrayal that I witnessed when activists, NGOs, and communist political parties turned against you.
I was stunned when I saw those platforms, political parties, activists, and NGOs mourning and praising you, when they initially ignored and disappointed you in your crisis, refusing to stand up and with you.
I do not know if this is an atonement for their sins towards you, or exploitation of what their wrongdoings have turned into, a symbol that will not be forgotten, and they will not be able to obliterate it no matter what they do.
And those organizations that hesitated to help you and abandoned you. And those activists who accused you of being hungry for fame for leaving Egypt, while I remember how devastated you were when we spoke — you didn't want to leave.
Betrayal and injustice are kins. Perhaps what makes betrayal more painful is that it may come from people we do not imagine experiencing it from. Betrayal is personal and sudden, and the injustice of the state and the society is general and anticipated.
We feel let down when we get eaten up by the crows of hatred, exclusion, treason, and belittlement through individuals and groups we thought battled a similar foe.
It saddens me that all this "appreciation" expressed by them appeared after they participated in the crime.
Those who cried for you publicly and let you down secretly.
Those who professed to help you on various platforms and discussed your demise, so sincerely, without saying 'sorry' for bailing on you and others similar to you.
In any case, you are not here to contend with their lip service, however, we are here to hold them accountable.